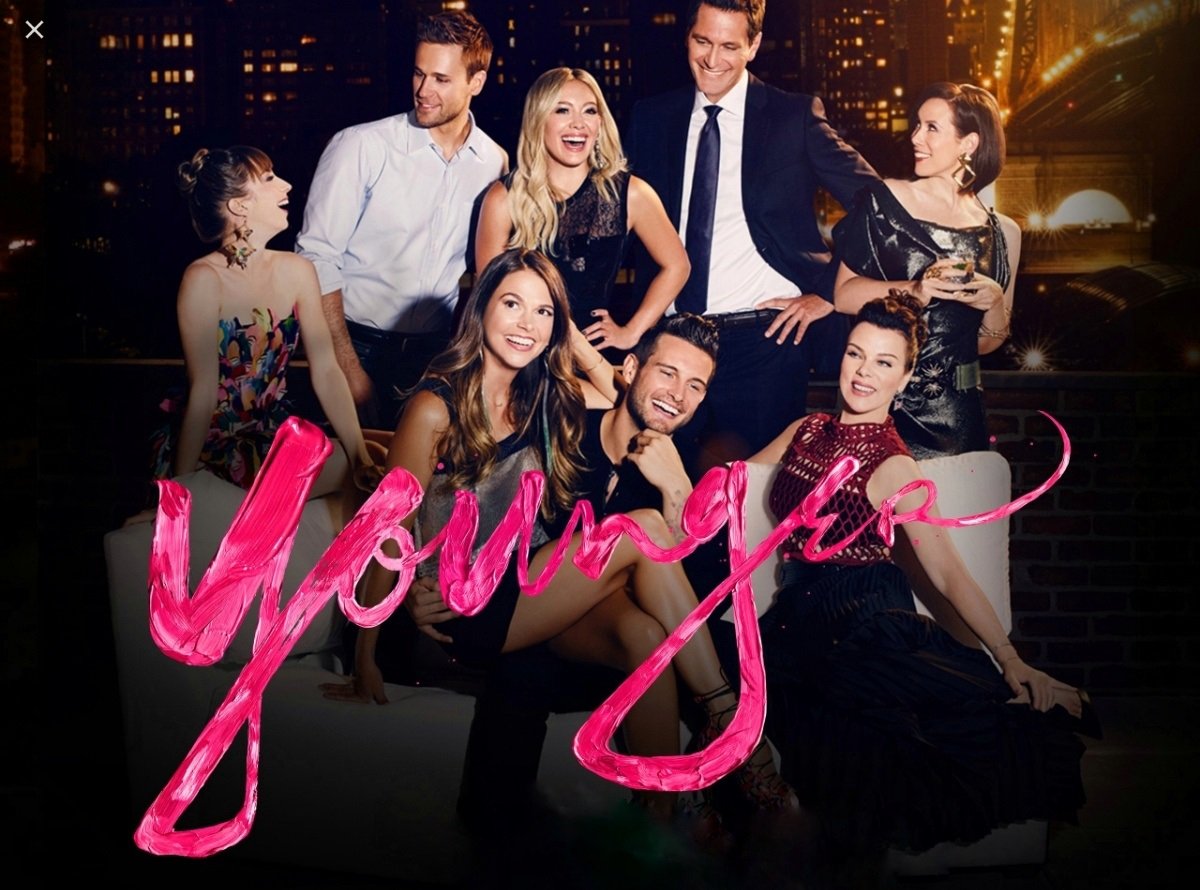 I first started watching this show a few months ago and fell in love with it immediately within the first episode – shortly thereafter I binge watched the first three seasons pretty much in a whole day (the episodes are only 20 minutes long). I find the show so relatable and very fun & entertaining, and just so super cute.
Younger is created by the brilliant TV series creator Darren Star of the iconic Sex & The City (and also Beverly Hills 90210 and Melrose) and if that doesn't give you more reason to check it out – then keep reading my post and I will in the end hopefully convince you!
It follows a divorced 40-year-old mother called Liza (played by Sutton Foster) after she moves in with her best-friend, Maggie (Debi Mazar – also Madonna's real life best-friend too) and decides to re-enter the employment publishing world. The only problem is nobody is really that interested in employing a 40-something year old woman, and after one night out, a young hot tattoo guy hits on her thinking she's a 20-something year old and thats when the light bulb goes off in her head and she decides she will apply for jobs as a 20-something year old And bingo, thats how the series begins!
There are similarities between Younger and Sex & The City, the most obvious being the creator Darren Star, but also how its set between the bustling metropolitan of Manhattan and the more hipster-chic side of Brooklyn and also has four main characters that targets for Generation Y and Z. My only issue with the show is that it only runs for 20 minutes per episode – only because I don't want it to stop!
The show is a clever mix of writing, followed by a brilliant cast, Younger is a show that lives up to all of its hype and here are my five reasons why I think you should you should be watching it:

 Ageism:
While the show is a comedy, it still tackles serious topics but in a not too in your face type of way. We all now too much in society, especially with social media that once you hit mid-thirty and above you're are basically told you have an expiration date and should not be seen. Unfortunately more than ever, society gives people expiration dates. Look at celebrities such as Madonna, Kylie Minogue, Halle Berry – the list goes on. The baffling idea that the older you become, the less you are worth and have to retire. Unfortunately this is what pushes Liza to lie in the first place and let's be honest, you really can't blame her for doing that. A person's age should have no bearing on their ability to do the job as long as they have the skills to back it up. We haven't seen many shows that tackle the topic of agesim and this is a running topic on the actual TV show itself. Either way, it will also inspire you to go out and take some chances, no matter what age you are!

 It's Sex & The City for the Millennials: 
Even though Sex & The City continues on heavy rotation around the world, on countless television channels, sold by the millions on DVD and Blu-ray still almost twenty years on and even though Sex & The City is still relevant and iconic, and most millennials may not understand the true effect of that groundbreaking influential show with the story-lines appearing outdated or not relevant enough for them. Younger will appeal to the millenals what Sex & The City was to my generation.

 The Cast: 
This show has such a brilliant cast! The acting by Sutton Foster (Liza), Hilary Duff (Kelsey) (who was also a former Disney TV child star and 00's pop star), Debi Mazar (Maggie), Nico Tortorella (Josh), Peter Hermann (Charles), Miriam Shor (Diana) and Molly Bernard (Lauren) are the main cast. Each actor plays their part to absolute perfection, portraying the emotions, the intelligence, the humility in their characters to its very finest. They convince you completely.

 Lizzy Maguire, I mean Hilary Duff (!):
OMFG as the millennials would say, well, even  the Gen Y say that as well but anyway, seeing the drop dead gorgeous and talented Hilary Duff back on television is a pop culture loving moment. Any young milennial who watched Disney's Lizzie McGuire or bought her albums in the early to mid 00's will remember her (I personally loved the songs, 'Wake Up' and 'Beat of my Heart'), and salvate with excitement. She plays Liza's co-worker Kelsey, who is a little neurotic (OK, a-lot), super stylish and fashionable, and she knows just what she wants. Sure, she has control and trust issues – let's be honest, who doesn't, but she is completely adorable.

 Fashion:
Since its premiere, the show has been compared to Sex & The City for its fashion as well… AND it does have Patricia Fields who was the celebrated costume designer and stylist behind Sex and the City. Each an every outfit is very 'on point' and on trend, and very current. Each character has its own unique style and the costume department have styled each character perfectly. The beauty of this show is that they focus more on the storytelling than on the fashion.
Do you or have you watched, 'Younger'? What do you think of it? Or is there a show you are obsessed with? I would love to know in the comments below xoxo