Investing in classic basics saves money because they don't go out of style. I've selected the basic essential items to get you through Spring
While spring made its presence known a few weeks ago by blessing us with it glorious sunshine and slightly warmer temperatures, we are still wearing the odd winter items every so often while the weather is still not in fully spring mode.
I'm wearing some winter staples still and just combining it with transitional pieces until spring finally decides to come out of hibernation and its presence known for the next couple of months before summer arrives.
So while we are waiting for spring to pop its head back out, here are a few basic spring essentials I feel every wardrobe must have and really, will last you for many years to come. They are true classic basic pieces that really don't go out of style.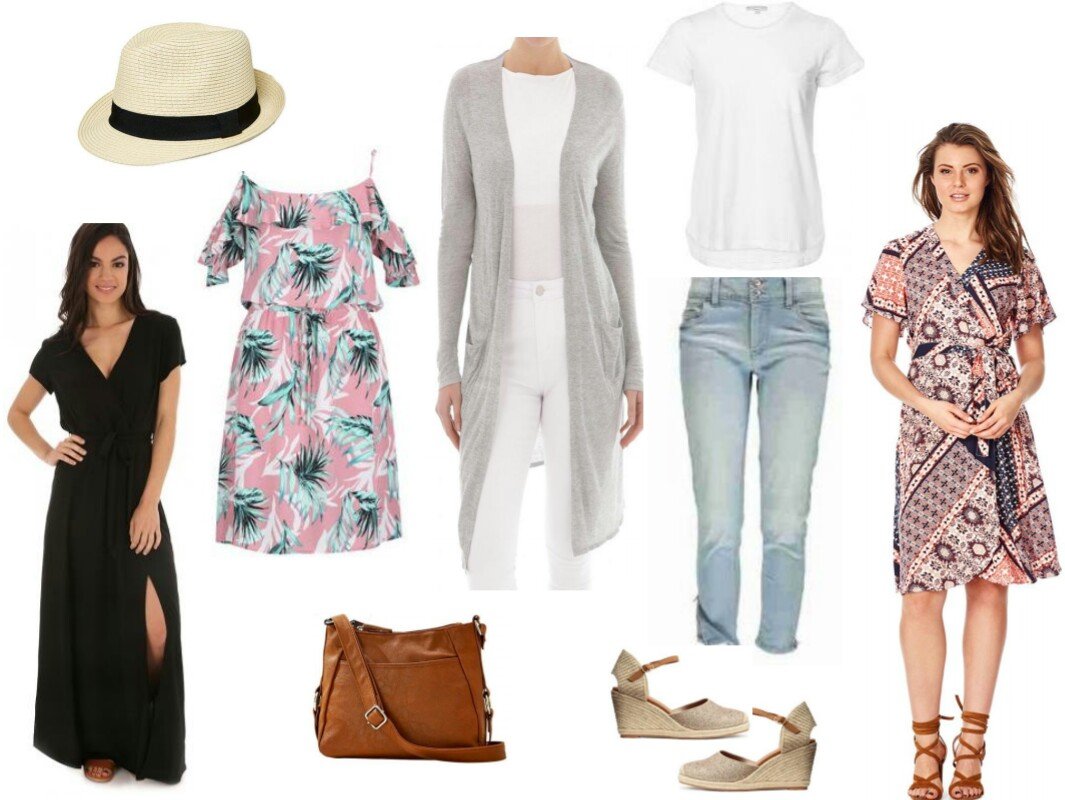 These are pieces that are on trend for this spring (and also can be used in autumn/fall) and will provide a basic foundation for your spring wardrobe. You will need to decided which pieces you should add to your wardrobe, based on your own lifestyle and wardrobe needs, but these are pieces of clothing, shoes, and accessories that you might want to consider if you haven't already done so.
A basic t-shirt is an essential in any wardrobe. The best t-shirts are the v neck or scooped ones as they will give your neck a slight length (elongation) to it. Investing in a few quality t-shirts that you can wear alone with a great accessory or layer under your jackets and t-shirts is crucial.
I prefer a V-neck t-shirts as I find that they are more flattering on the body but you need to choose the neckline that is most flattering on you and that you feel comfortable with.
You can tuck T-shirts into jeans and pair it with sky high wedges or even gladiator sandals and really, you are set to go!
A Light Top
Sometimes, it's a little too warm for a cardigan, but you don't want to expose as much as you might in a basic t-shirt. You want a top that's light, offers good coverage, and still very much fits the sunny spring vibe. To that end, you should consider adding some nice tunic tops to your arsenal. They can make for a great, easy-to-remove layer to wear on top of your t-shirt, as well, but without being quite as thick as a cardigan or sweater.
Jeans are a must in any person's wardrobe! They are the most versatile wardrobe necessity and will have your back no matter what the occasion! Jeans are just fabulous, coming in a whole wide of varieties, range of cuts and shades, from white to black and all hues of grey and blue in between!
I absolutely love jeans (especially more so if they are the distressed or ripped kind!) for the reason that they can be dressed down with gladiator sandals and/or trainers, with a cute top or dressed up with heels and a sexy, stylish evening top for a night out on the town! #winning
Dresses are a staple that every woman must have in their wardrobe, in a few different classic cuts and styles. that will last for many years to come (for example, think the wrap dress).
Regardless of your style, taste or shape, owning a collection of dresses will forever allow you to dress whatever the occasion maybe, appropriately. For the spring season, boho, a maxi dress or a summery, cute and casual dress, will be the way to go!
Gone are the days when people used to say, who ever wore a cardigan was boring and looked like they worked as a librarian (no disrespect to librarians here!). The cardigan has in the past few years become such an important staple to have in your wardrobe and the more different styles and colours the better!
I am a huge fan of the cardigan and my preferred is the longline version. I just find that it adds more edge to your whole outfit.
Cardigans are ideal for layering over short and long sleeve tops when the weather begins to turn without being as constrictive as a jumper. Wear them over a dress for added warmth or rock the layered look with jeans, a cool tee, ankle boots and a hat.
Wedge heel sandals are a must for spring and summer. I absolutely love wedge sandals, and I seriously cannot wait for the weather to warm up enough to break out my small collection of them. Haha!
If you're only going to have one pair, always try to go with a neutral tone as that will last you for many years to come. Wedges are a style that won't be going away for a long time and they add a cool edge to your outfit. Also, they elongate your calves!
Complete your look with a few accessories pieces such as hats, to belts, to all forms of jewellery and bags. A statement piece doesn't need to be pricey but it needs to speak to your own personal style.
One key point to always take into consideration: don't overdo on the jewellery part of it.
A necklace, watch and/or bracelet some beautiful chunky silver bracelets will be enough and speak volumes – if you add too much, it will drown your outfit and make it look too 'heavy'. Less is always more, in this instance.
What are your favourite basic essentials that you love to wear in spring?