Today is our sixth wedding anniversary.
I can't believe six years have passed since we exchanged vows and became husband & wife.
Ever since then so much has happened, and every time I think back to the day I walked down the aisle with my mother and my beloved dog Mateus it brings me back to a dream like state that is filled with so much happiness, joy and really felt, like I was walked on air that day. A sense, that my dream came true. And it did. Marrying my soul mate, my true love, my life partner.
My father had passed away two years before I got married, hence why I asked for my mother to walk me down the aisle along with my other true love, my dog, Mateus.
My mama wanted a man – no  she begged me to have one of my fathers best friends to walk me down the aisle… but I just couldn't. It tore me to pieces of even trying to imagine or slightly consider, having another man, other than my own father walk me down the aisle.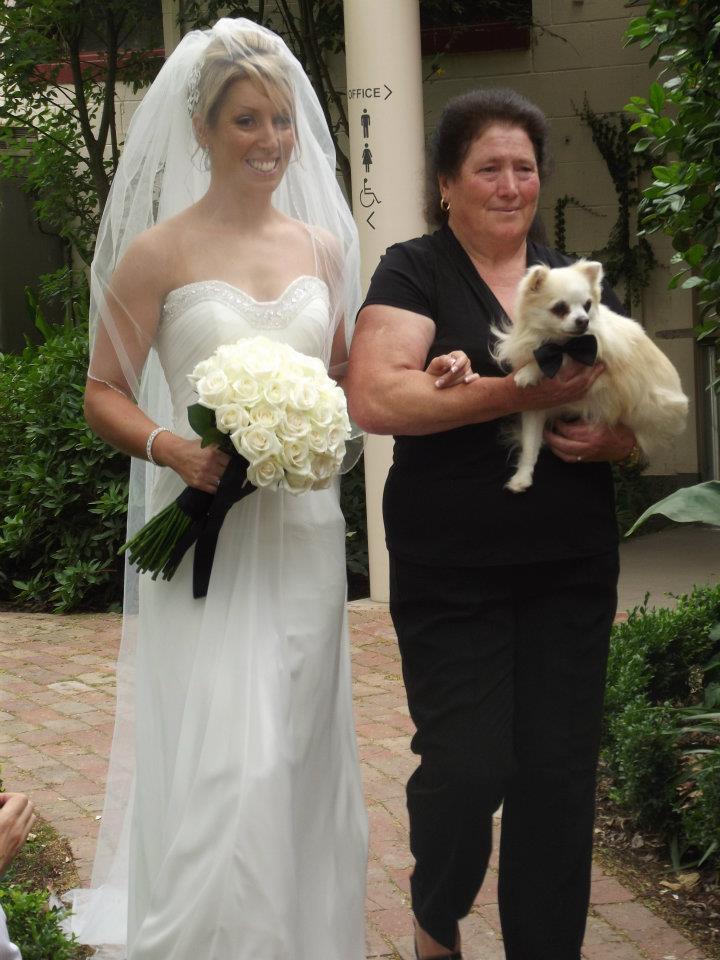 It felt utterly and completely, wrong. I just couldn't. You dream your whole life from the moment you're a little girl of one day walking down the aisle, along with your father by your side.
I know my daddy would have loved this moment. It would have made him so proud. He spoke about it so many times through out the years…. Seeing his little girl, FINALLY… marry. But it wasn't in God's plans for that to happen. But I know, and I truly felt that day, the energy of my daddy and my mother in law – who was also in heaven, were both there, sitting front row and watching both myself and Troy take our vows to love, and to cherish, to honour one another – as husband and wife.
"I can be your hero baby, I can kiss away the pain, I will stand by you forever…You can take my breath away." Hero, by Enrique Iglesias
I clearly remember when our celebrant announced us as, "Mr and Mrs", I shouted out, "I'm married!" and everyone laughed – I knew in my heart from the very first date, that Troy and I were meant to be together.
Troy only requested one thing at our wedding, and that was to have our first dance as husband and wife dance to Enrique Iglesias, classic ballad, 'Hero.'
Everything about our wedding truly felt like a dream. I never felt more relaxed or stress free. I felt, free.
When it came to our speeches, Troy's always stays in mind… he repeated over, "I am never letting this one go." That meant more to me than anything. A man. A partner, who truly accepted me for all of my flaws, my eccentricities, my stubborness, my oh my God moments…,  my husband, my accepted all of me.
Those are just a few of the beautiful memories I keep alive inside of my heart and I smile every single time I remember them. All of them. Every single moment.
We have our furbabies, Tiago and Miguel – who are our beloved children. But everyday, I just wish that by some true God like miracle, by some luck or break that I could give my truly amazing husband who does so much and beyond for our family, for us ….for me – I just wish the one thing as a woman I could give back to him, is his own flesh and bone, his own child. But we are blessed to have each other.
I love you so so so so much. Happy anniversary, my love xoxoxo