Cohorted is not just any subscription beauty box, it is a luxury beauty box. Every month it is filled with luxury branded beauty products such as Too Faced, NARS, Chanel and Lancome, and many many more.
The Cohorted Beauty Box is a £35 a month (Australian price of about $45 – $50 a month) and contains a 'selection of hand-picked beauty must haves'. 
It contains a secret selection of hand-picked beauty must haves, enclosed in an elegant all black exterior, and finished with a luxury hand tied bow. Super classy, super chic!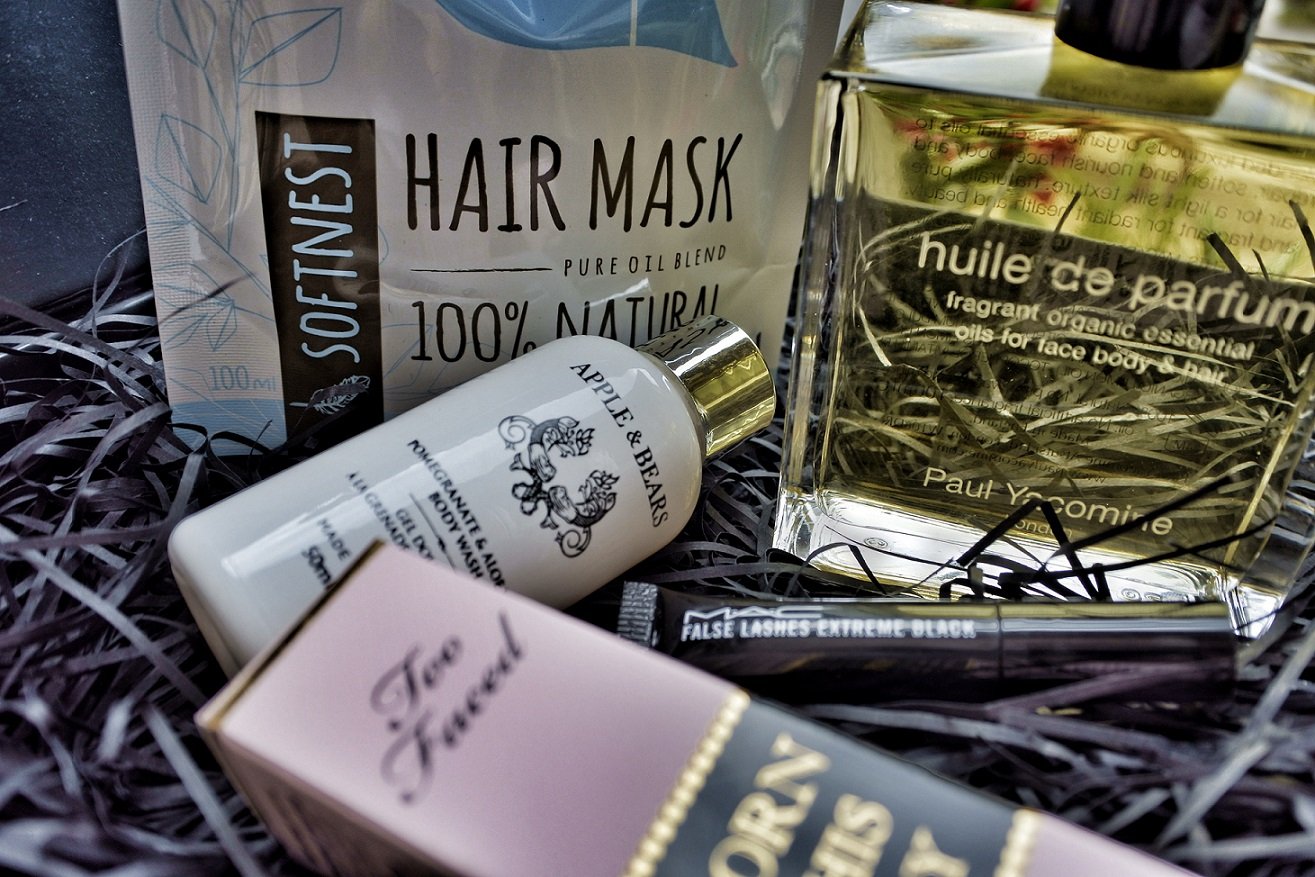 The box itself is incredibly well presented and super chic, with a black box, while lettering and a black ribbon, all so Net A Porter style. Inside it's filled with black shredded tissue paper, your beauty items and a booklet which is filled with info on the products and also discounts for the site too.
So what was inside this box? There are five items, and they are as follows:
? Paul Yacomine 'Huile de Parfum' 100ml – £28.00
? Too Faced 'Born This Way' Concealer in 'Light Medium' – £20.00
? Chirp Body 'Softnest Natural Hair Mask' – £17.95
? MAC 'False Lash Extreme' in Black – SAMPLE
? Apple & Bears 'Bergamot and Green Tea Body Wash' 50ml (sample travel sized) – £5.00
Paul Yacomine, 'Huile de Parfum' (100ml)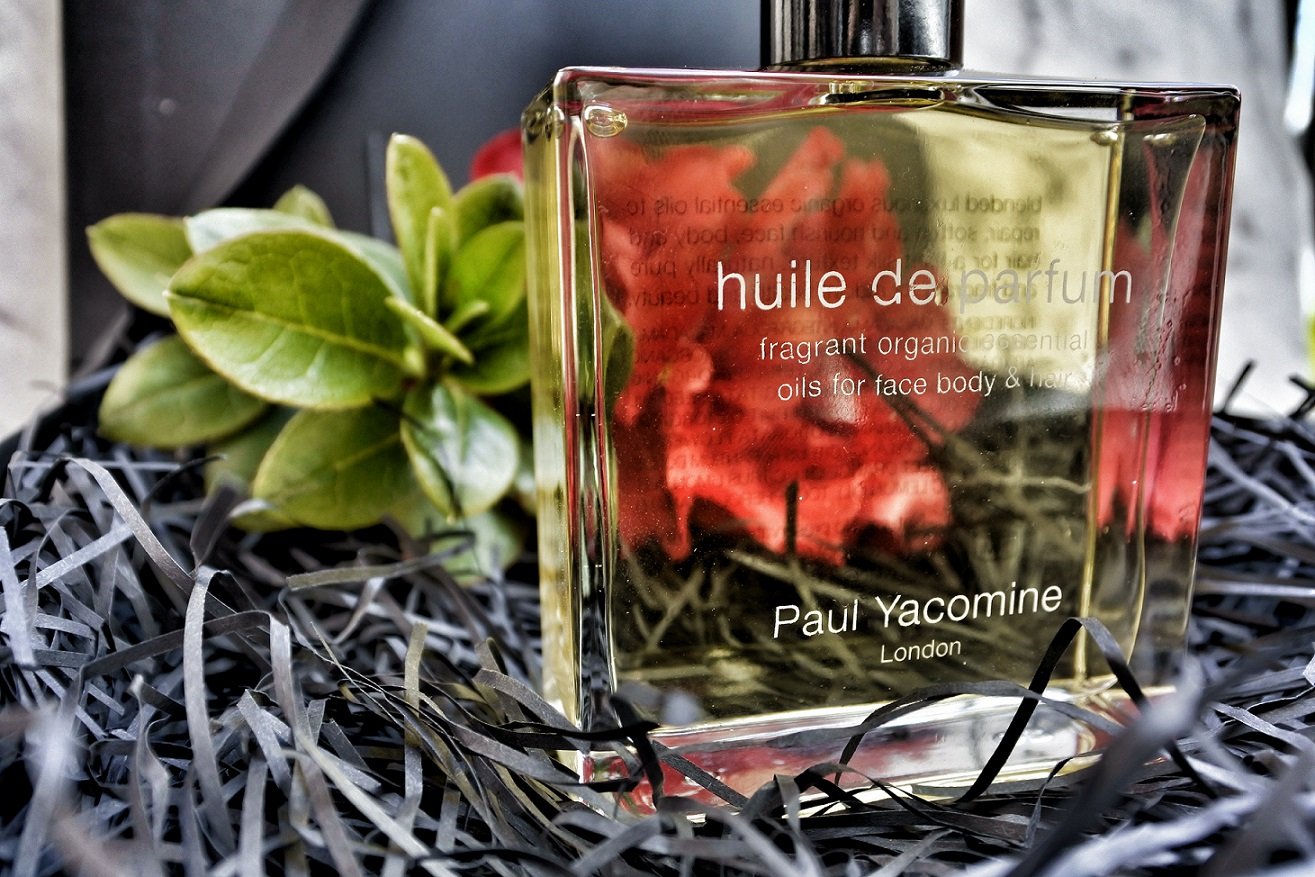 "Blended luxurious essential oils to repair, soften and nourish face, body, hair and nails for a light, silk texture, naturally pure for radiant health and beauty. Organic oils of ylang ylang, sweet orange, lemon and rosehip create soothing tropical floral notes. A luxuriant summer essential."
The Paul Yacomine 'Huile de Parfum' comes in a square glass bottle, and it looks rather like a bottle of aftershave. I almost gave it to my husband! Haha!
It's an organic essential oil for hair, face and body which supposedly is to repair, soften and nourish. As my face is normal, I didn't want to add any extra moisture. But I did use a small amount on my hair (no bigger than a 5 cent piece), and also on my legs, and elbows.
I will say that I am quite impressed with how it made my hair look – less frizzy and dry, and gave a nice shine to it. The scent is subtle and has a fruity/floral.
Chirp Body, 'Softest Natural Hair Mask'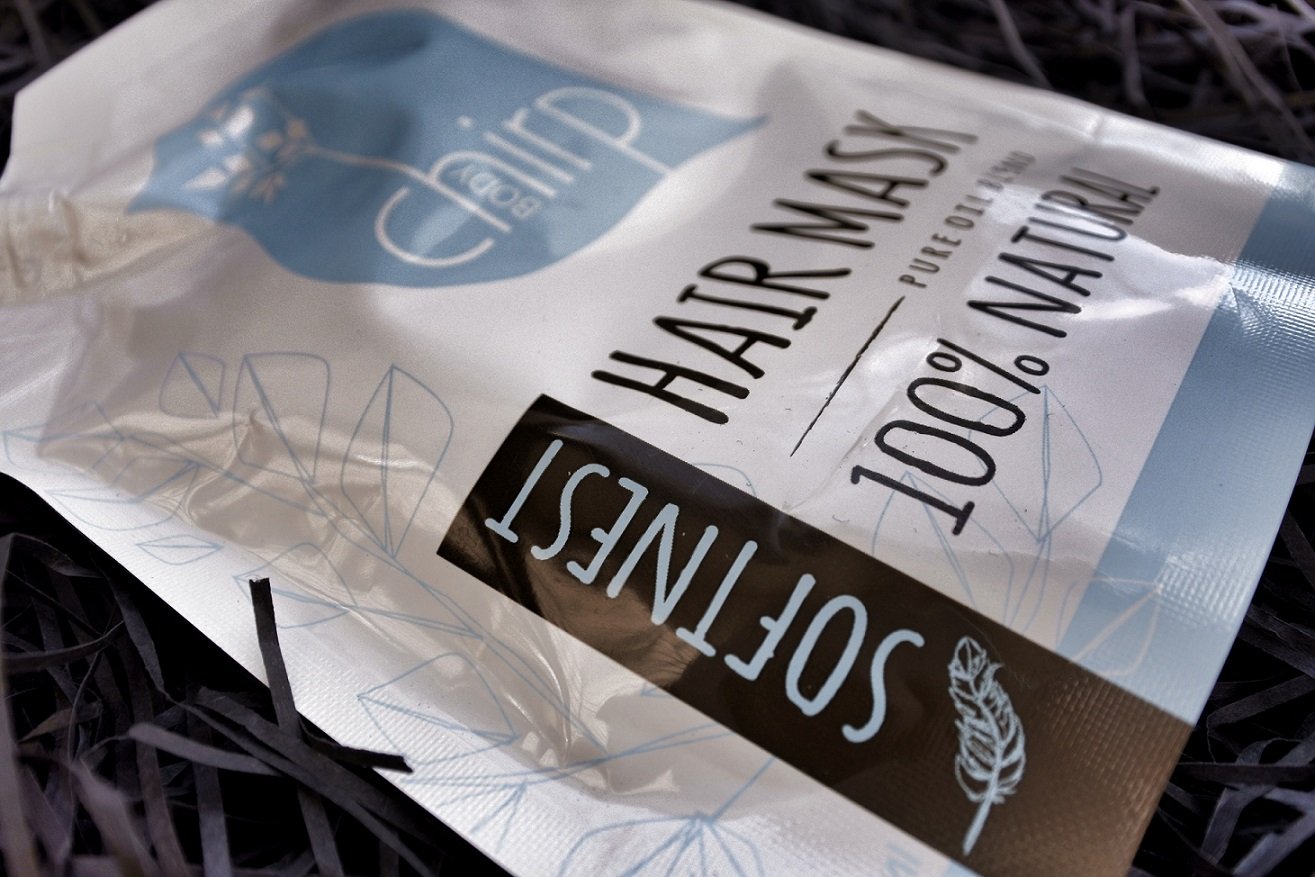 "The hair mask is designed to make hair softer, shinier, stronger and smoother so there is less frizz. It also hydrates & rejuvenates stressed hair. There are 13 key ingredients that are oils in this mask; coconut oil, grapeseed oil, castor seed oil, olive fruit oil, argan kernel oil, jojoba fruit oil, avocado oil, grapefruit oil, bergamot oil, lemon oil, tea tree oil, vanilla oil and yiang ylang flower oil."
I'm pretty dubious when it come's to hair masks, as so far I haven't been impressed with many as of yet and since I have pretty dry hair due to all the colouring I do, so I am always on the search for a hair mask that delivers and does more.
Now, I wasn't so sure about this product as I've used oil based hair masks before in the past and it never washed out properly, and I still felt my hair was dirty after a few washes. Bah!  But anyway, I put aside my concerns and went ahead and tried it out.
As instructed on the packed, I applied the product to my hair and washed it out twice and as soon as my hair dried… OH. MY. GOD!! My hair has never felt so soft and healthy!! I was really so shocked as hair can get so dry after a few days as the ends of my hair dry out.
This is one product I am definitely going to buy on-line and an added bonus is that this product is 100% cruelty free.
MAC, 'False Lash Extreme' in Black (sample size)
Too Faced, 'Born This Way' Concealer in 'Light Medium'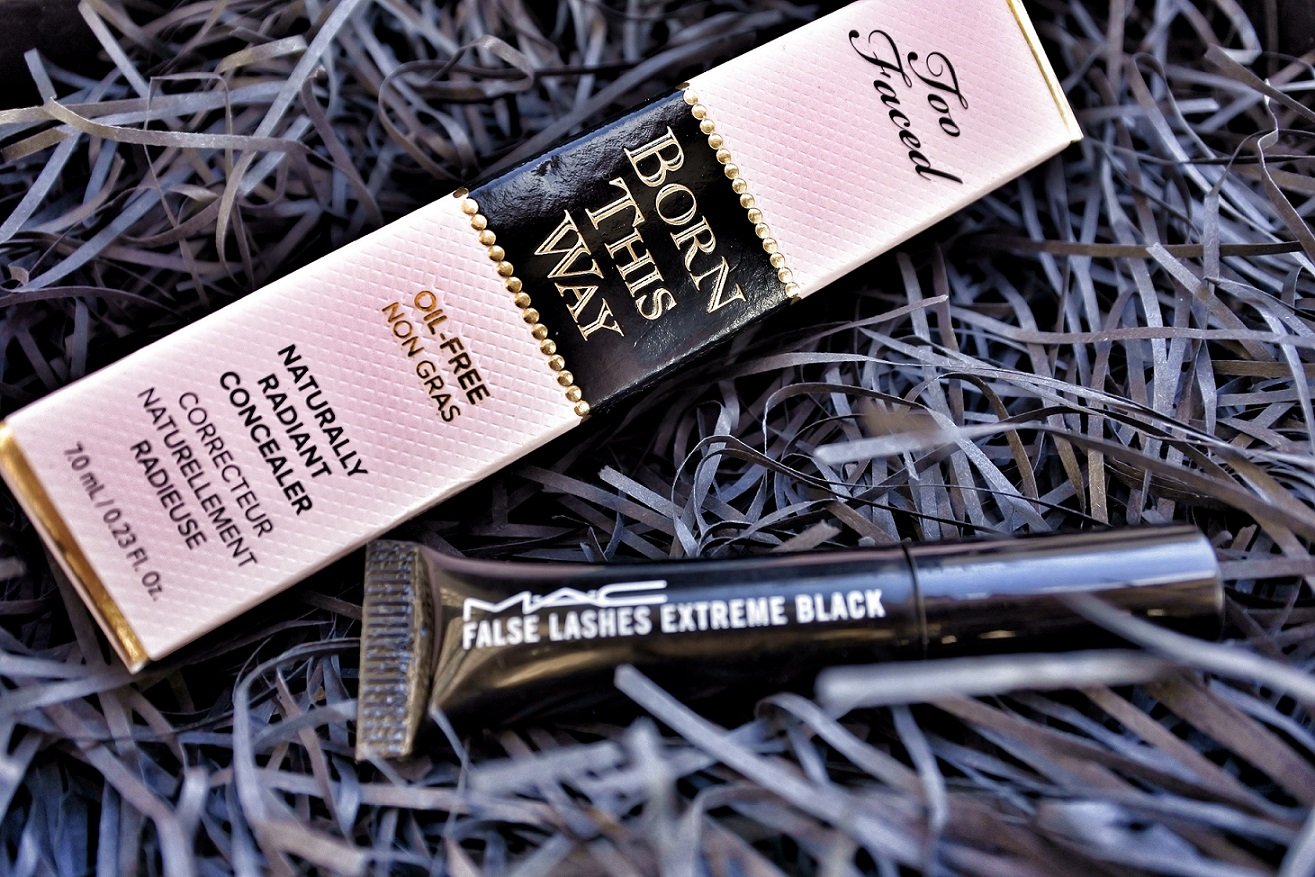 I am ALWAYS on the look out for a mascara that promises to deliver what it really promotes it to be. God knows I have gone through so many mascaras from the drug store to the high end department, designer brand and most mascaras are either annoyingly too thick and clumpy (bah!!) or they leave my mink lashes from lilymink looking as thin and spidery as the daddy long legs scaring me in my toilet earlier this morning!
Enter in the 'Mac False Lashes Extreme Black Mascara'. Only two negative things I can say about this product is that, 1) it doesn't hold the curl to your lashes, even after I used the eyelash curler and 2) it came in a very small sample size. So I only made sure to use this product sparingly so I could have it last longer.
I wouldn't say that this product gave me a 'false lash'effect, but my slightly straight lashes did appear thicker and longer, with plenty of impact and colour.
Out of all the products in the Cohorted Beauty Box, this was THE one product I was so super excited to see as I do love Too Faced and have been quite impressed by their products for a while.
Apart from mascaras that I'm obsessed with, I am also obsessed with concealers. Also, on the hunt for a good concealer that does what it promises to, whilst giving hydration and lasting. This is formulated with many of the same ingredients that the foundation has such as coconut water for moisture, hyaluronic acid to retain moisture and smooth skin, as well as alpine rose to brighten. It's also oil-free!
The only negative I have with the product is that it didn't last that long, I probably got about 5 hours out of it before it started to wear off. But other than that, I was quite happy with it.
Apple & Bears 'Bergamot and Green Tea Body Wash' (sample travel size)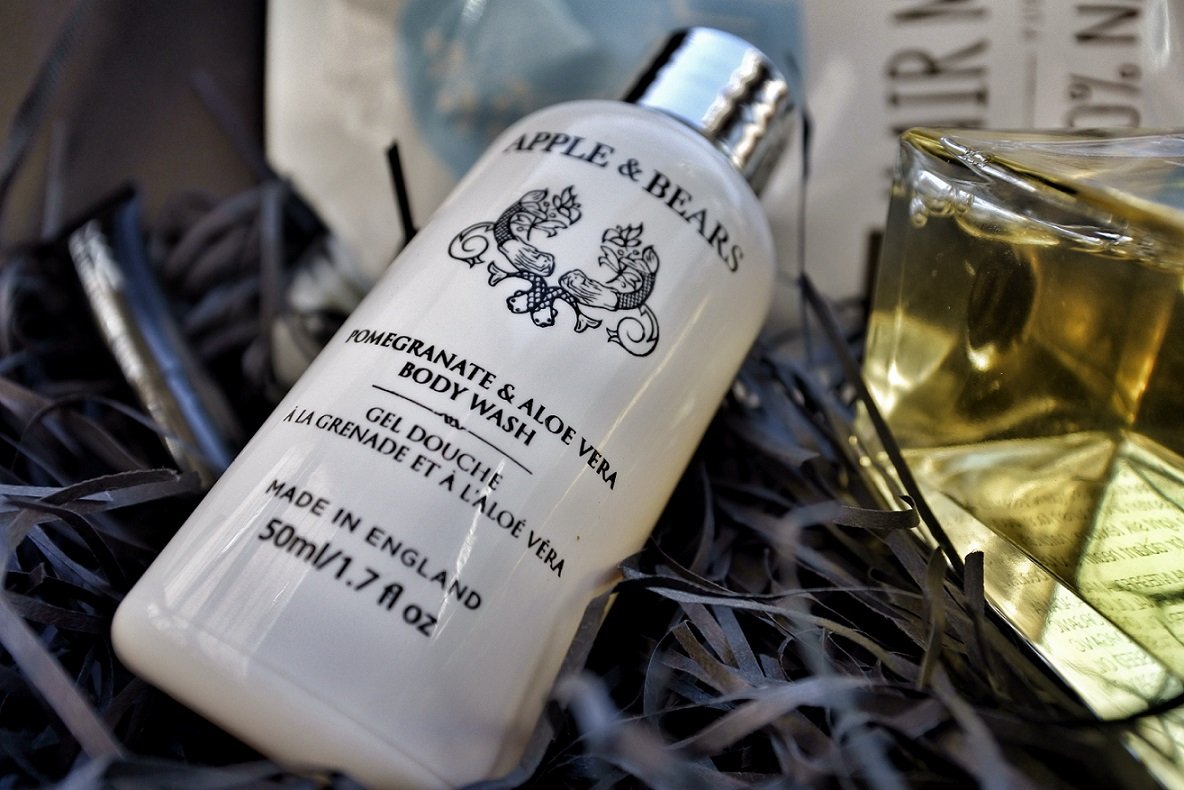 Apple and Bears are of course also 100% cruelty free and pride themselves on having no involvement with animal cruelty in any stage of development or production.
Two of the main ingredients, Bergamot and Green Tea are renowned for their anti-ageing properties and has a lovely citrus scent to it. I actually found this scent to be really lovely and refreshing, all the while still quite natural smelling. It lathers up really well, with lots of bubbles.
Again, this product came in a trial size, which is quite disappointing as you would want to get a few good uses out of it to make a proper review on the product itself.
Have you tried the Cohorted beauty box before or would you even consider to try it? Sign up for a subscription over on Cohorted.
* All new subscriptions will receive free a Laura Mercia Crème Smooth Lip Colour (in shade 'Maya') – make sure to use the code 'COHORTEDGIFTME' to receive your free gift!