My eyebrow regrowth challenge for the next 18 months!!
Drop down those tweezers and step away! This is an over plucking eyebrow intervention!
Like most women, since the 90's I have (over) plucked my eyebrows and at the time while it seemed all cool and stylish, well fast forward to today and that has all dramatically changed, all over again.
Eyebrows have gone through a reinvention revolution since the beginning of time and we are now back to a bold brow and that is thanks in large part to supermodel Cara Delevingne and also the Kardashian/Jenner clan.
Since my 90's (over) plucking my eyebrows, they really haven't regrown as much – well I guess it would help if stopped reaching for those tweezers – and since the bold thick brow is back and isn't really going anywhere anytime soon just yet, I have used fillers, eyebrow mascaras and pencils just to give it the illusion of a 'thicker' brow. And not too bad a job I have to say but still…
So this weekend I decided once and for all, the plucking shall be stopped (the odd tidying up is OK but no more than two or three strands) and the regrowth is to begin …therefore I have given myself an 18 month eyebrow challenge!!
But how does one's eyebrows regrow again after it has been over plucked to death? Is it even possible to get eyebrows looking like Kim Kardashian's?? Well, apparently you can.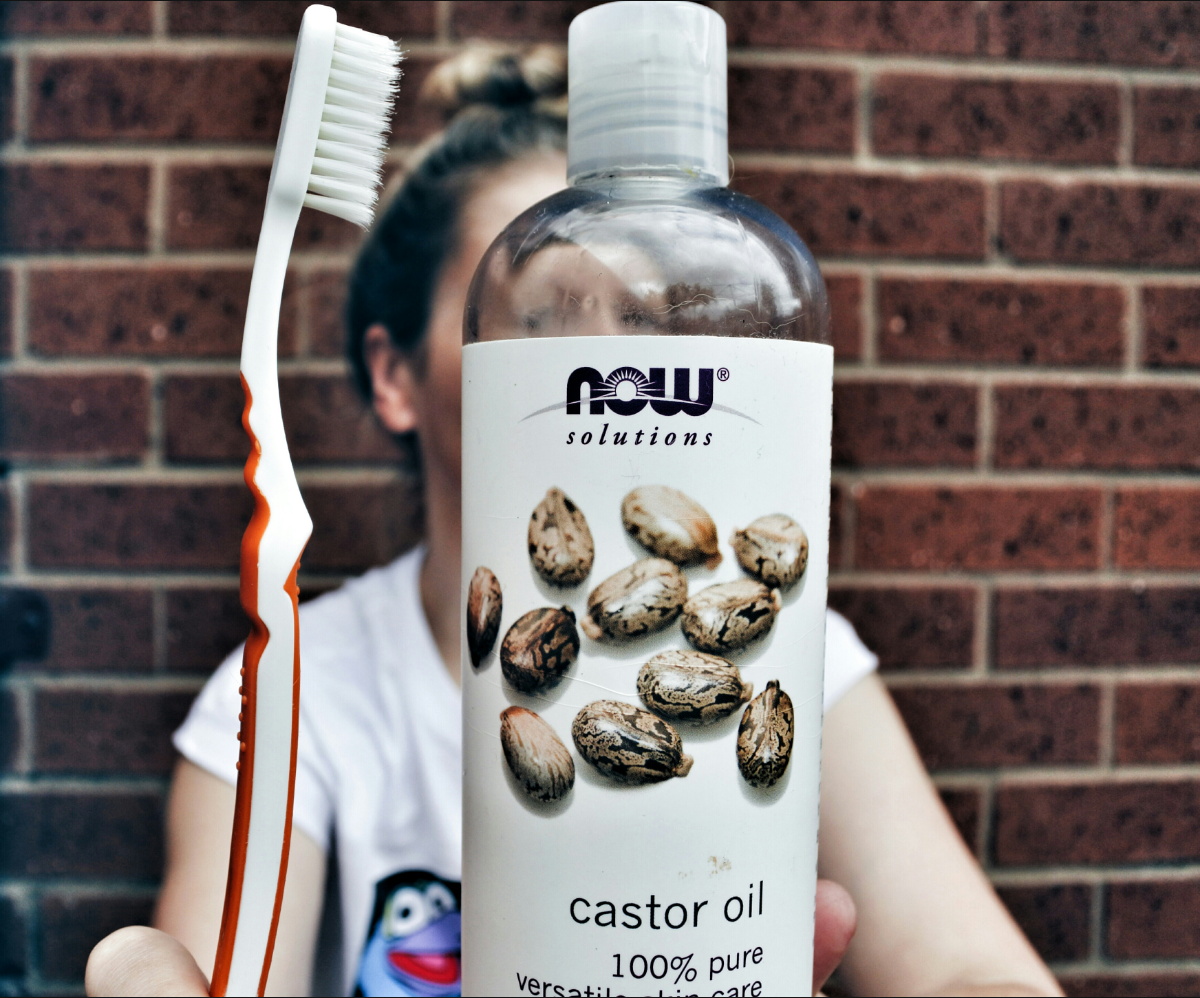 WHAT YOU WILL NEED:
All you need is castor oil, a toothbrush (you can use a mascara brush) and Vitamins B (especially biotin).
START FROM THE INSIDE:
Like everything else, you need to give your body what it needs to produce healthy hair. So make sure to eat plenty of protein and foods that are high in essential fatty acids.
But to speed up the process, you can supplement your body with B vitamins (make sure to get Biotin) which  has been shown to promote hair growth as well as vitamins C and A.
WHY CASTOR OIL?
Castor oil is found to have so many many benefits mainly for hair and skin and has very high penetrative power which helps to act deep from the skin and activate hair growth.
Use your toothbrush (obviously one you're not currently using to brush your teeth with) or a mascara brush and dab a little of the castor oil on it and just brush your eyebrows with it. Gentle brushing strokes for like five minutes on each side. The brushing will invigorate (.i.e. wake them up literally) your eyebrows and over time it will respond.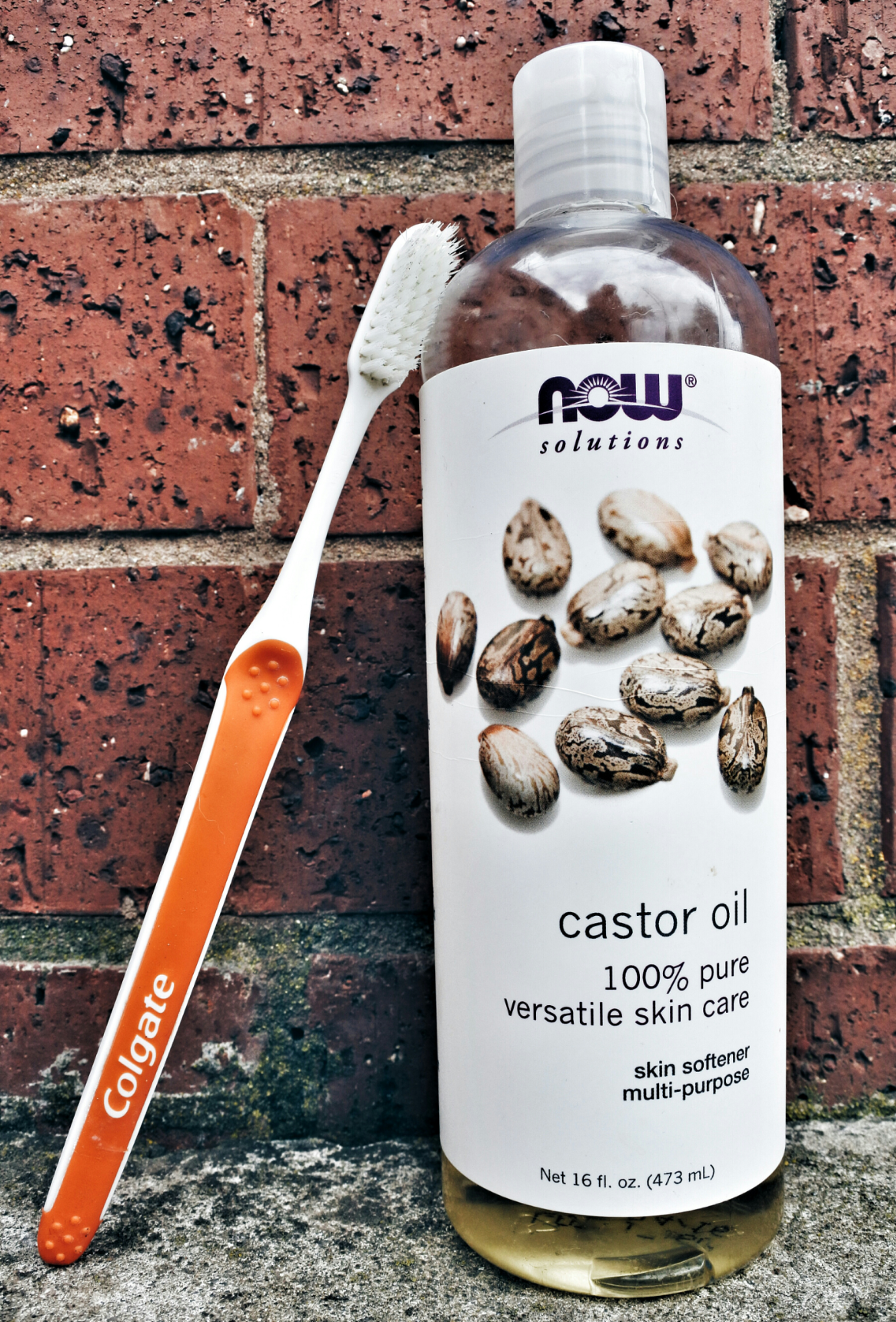 I would expect to see some results within the next two weeks but a realistic goal to see proper thicker eyebrow results is within 18 months. It's a long process I know but so very worth it, I think. Do I believe I will end up Kim Kardashian like eyebrows?
I really don't have the right answer for that one, but what I do know is that this method of regrowing your eyebrows does actually work as I have seen it happen on a couple of good friends of mine.
So whether if I will have the same type of eyebrows like I did back in the late 80's (and actually they weren't too bad, fuller and thicker…), well I will just have to wait and see, and I will be definitely documenting it here on my blog over time to let you guys see the results.
Are you growing out your eyebrows? Do you have any tips or product recommendations to share? I would love to know in the comments below.