"They're judging me by my age. What's the difference between that and racism, or any discrimination? I don't understand. Because women generally, when they reach a certain age are expected to shut up, hide behind their man and or many have accepted that they're not allowed to behave a certain way. But I don't follow the rules. I never did. And I'm not going to start too." Madonna
Jumpsuits are one of my ultimate favourite clothing staples and have been now for a few years, and to be honest I probably now own around 14 jumpsuits (and play-suits too), which range from casual to very dressed up.  
With a jumpsuit it's literally just putting it on and go! For me, they are stylish, have an edge to it (depending on the designers cut and style of it) and are so super comfortable. Even with the most basic of jumpsuits, regardless of the material its made in, you can easily dress it up.
Unfortunately, not every woman is able to wear a jumpsuit and you really need to be careful with especially when it has a 'loud patterns' as majority of them will not flatter regardless of the figure in my opinion.
I recently saw this one on BooHoo and instantly just fell in love with it! It has a deep plunge neckline, with a wide leg culotte pant style. So basically you are getting two styles in one! Culottes and a jumpsuit! On both sides of the waist you will find lace-up straps to tie up at the back, which is just fabulous as it really sucks in your tummy and the material has a body-con affect, which really gives your figure an eight hour glass effect.
I didn't realise when I purchased the outfit that it actually has a Madonnaesque (don't know if thats a word, but it sounds OK) feel to it.
And anyone who either is a massive Madonna fan (i.e. me) or a pop culture fan, you may remember in the late 80's, Madonna did an infamous controversial Pepsi commercial which you see her dancing in the middle of the streets singing, 'Like A Prayer' in a deep plunging neckline black jumpsuit.
Now, this BooHoo outfit seriously resembles that Madonna outfit and only after the photos were taken,  that it clicked inside my brain that the whole ensemble outfit is very Madonna, Like A Prayer  inspired.
Not even the black rosary beads necklace at the time, made me see that! So obvious!! (cue in the shaking my head in disbelief).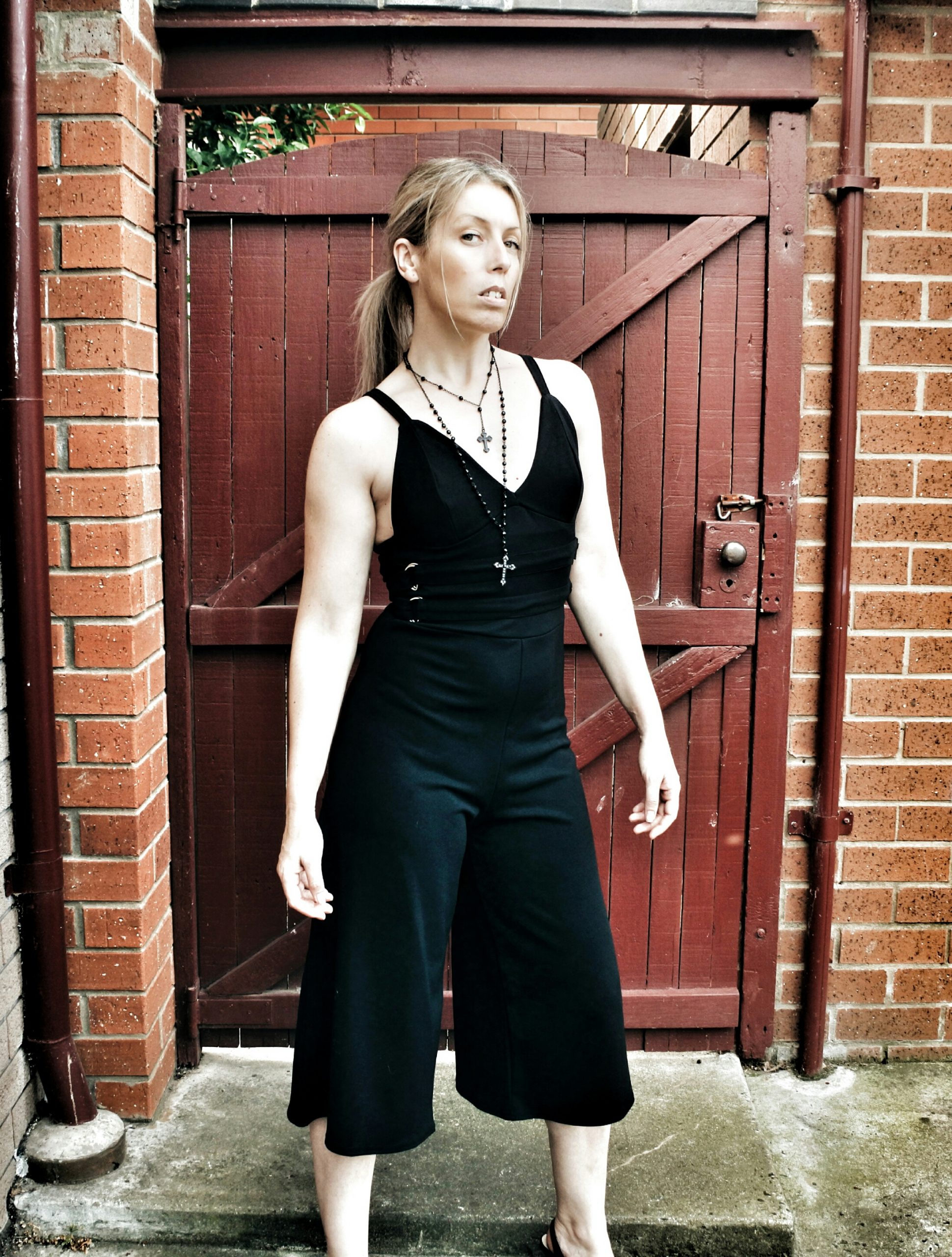 You can wear this outfit to the office (minus the rosary beads!), with a cute bolero blazer and sling backs, or if meeting with friends or going out on a date, a black fringe kimono would be perfect.
I'm wearing this to the office today, along with my rosary beads only because I'm bit of a 'rebel heart' (cue in Madonna's last album reference).
OK, I'm off to work now and really hoping that no one's placed too many files on my desk. Haha! Wishing everyone a fabulous day! xoxo