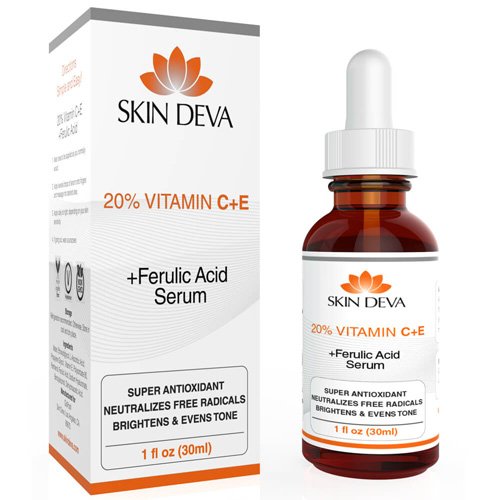 Get that REAL glow.
          Cost: (US) $24.99 (AUD) $34.58
I was contacted by Skin Deva (a skin care company in the USA) asking if I would be interested in reviewing one of their serum products on my Instagram page and before I gave them my answer, I had a wander over to the website to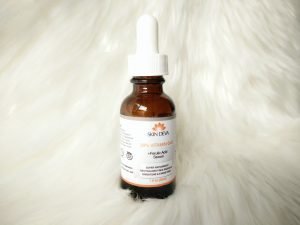 see what the company was all about.
Skin Deva specialise in anti-aging, skin moisturising and many other skin care products. Their products are made without any use of parabens, filler, artificial fragrances and synthetic dyes (aka as the nasty toxic stuff) but also their products are made with all natural ingredients. So basically, they are my type of skin care company. I agreed to review their product and went into it with an open mind, free of any influence or persuasion.
Facial Serums: What Are They?
Well facial serums are basically lightweight moisturisers that penetrate and activate ingredients deeper into your skin. Look at it this way: serums are like an entree meal before you get to scoff down your main meal at dinner. Look at it as a pre-sampling of yummy goodies.  Serums are products with high concentrations of certain active ingredients such as hyaluronic acid (to reduce the appearance of lines and wrinkles – well, hello!! Yes please!), vitamin C (to brighten the skin & help reduce the appearance of pigmentation and age spots – again, yes please!) and/or glycolic acid (an exfoliant). Using a serum under your  day and night moisturiser is actually preparing and boosting your skin's health so much further.
Should I Be Using Them?
Most definitely! A serum isn't meant to replace your daytime or night-time moisturizer but they are to be used together in combination with your other products to boost your anti-aging results and more importantly, your skin health. Serums use beneficial ingredients such as vitamin c, hyalronic acid, glycolic acid and even more antioxidants in their products which day or night creams don't have.
There Are So Many! How Do I Choose
The

Right One?

There are hundreds of serums on the market now and so finding the right serum is a hard one. And unfortunately there are some that are just a tad too expensive that in some cases you may decided to not bother buying a serum. Good news is that there are now many competitive cheaper serums on the market and there are some that actually do work better than a lot of the expensive ones. You just need to do your research to find them or hopefully a blogger can help you out if they have reviewed any facial serum products on their blog, such as myself! (wink wink! – cue in my little hand wave)

Once you've found the right serum look at it this way: it's like starting a good healthy long term relationship.

Your skin will improve quickly and over time you will see any signs of skin damage fade and your skin will dramatically improve, looking firmer, brighter, younger and healthy.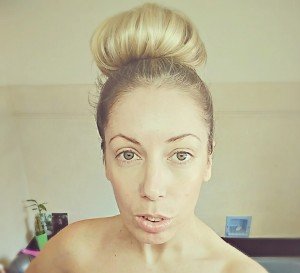 My Experience With the Skin Deva Serum – Vitamin C+E+Ferulic Acid:
The active ingredients that this serum contains are as follows:
Water, Ethoxydiglycol, L- Absorbic Acid, Propylene Glycol, Vitamin E, Polysorbate 80, Panthenol, Ferulic Acid (ferulic ccid extends shelf life and the potency of Vitamin C), Sodium Hyaluronate, Benzylalcohol and DHA.
* Please note that this product is not recommended for oily skin since it contains vitamin E
The Skin Deva product 20% Vitamin C+E+Ferulic acid serum is a product that promotes fresh looking youthful skin whilst being rejuvenated. This serum helps to build collagen while it reverses the signs of ageing but also the environment's pollution that surrounds us on a daily basis. Also important to know and it fabulous, is that the product also promotes to help exfoliate the skin. Getting rid of dead skin cells, promoting blood flow to increase brand new skin cells. Skin rejuvenation.
After two days of using this product, I seriously saw an immediate improvement in my skin. My skin started to look smoother and brighter and I swear I thought I was starting to look younger! Could my eyes be deceiving me?! (Hell no! Haha!).
I've been using facial serums for over a year now, using a couple of different brands but I will have to say that this one has really impressed me the most.
With the other brands it took about one and a half weeks to two weeks for their serum to start to make some slight difference on my skin. But I can tell you that with this serum I could already notice a change in my skin's appearance after only using it for two days. Seriously, if it worked that quickly after two days how awesome was my skin going to look after three or more weeks?!
And I have to say that after using it for almost a month, it continues to blow my mind!! The difference that it has made to my skin is amazing.
FINAL VERDICT:
For a product to actually do as its advertising is a rarity nowadays. Every morning and night I make sure that I never forget to apply this serum. As soon as I apply it to my face, immediately I get that healthy glow and I know it starting to work its magic on my skin and my skin is saying, "Thank you! I can breathe again! Ahhhhhhhhh look at me now! I'm glowing!"
All you need is a few drops onto your fingers and you gently smooth it onto your cleansed face. The serum will dry up fast and its non greasy. Whats also amazing about this product is that it's not tested on animals, it cruelty free, natural and absolutely paraben free!
The Skin Deva – 20 Vitamin C+Ferulic Acid Serum will be the product that you won't be able to live without and will make it as part of your skin care routine. I can tell you , that I will be using this product for a long time to come.
Time to get that natural glow and younger, healthier looking skin!
You can purchase their products from their website Skin Deva and they now post to Australia at a flat rate of $6.95.
*Advertorial post in collaboration with Skin Deva. All opinions are 100% mine.