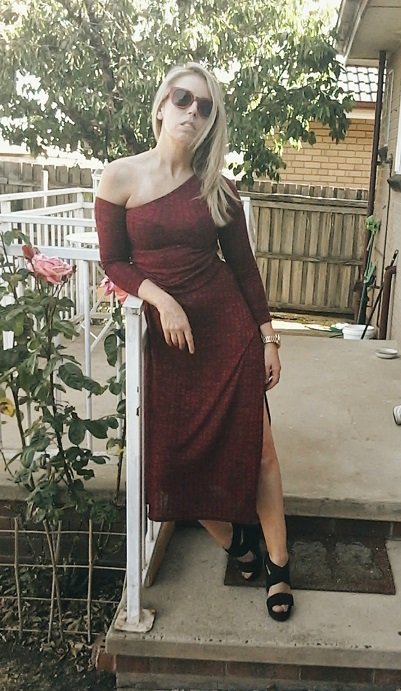 Asymmetric Midi Dress by BooHoo
Wearing: Asymmetric Bardot Bardot Ribbed Midi Dress (currently on-sale) by Boohoo, wedges by Novo Shoes, sunglasses by Mango and SmartWatch by Michael Kors.
I bought this asymmetric midi dress by Boohoo a short while ago and I finally decided to wear it just recently and I have to say it has now become of my favourite dresses lately. Its a one shoulder dress, with the other arm being off the shoulder, the body dress is figure hugging and has two side splits.
The dress has an androgynous look to it, mixed in with a slight twist of 70's disco glam. I love how the dress makes my shoulders look and I feel really comfortable and fabulous wearing it.
The burgundy colour has been my favourite colour of the moment since early last year and it continues to be my main favourite colour.
Well, I'm off to my during the day, full-time job (claims assistant for an insurance assessing company), hopefully the phones don't drive me bonkers haha! Have a fabulous day everyone! xoxo