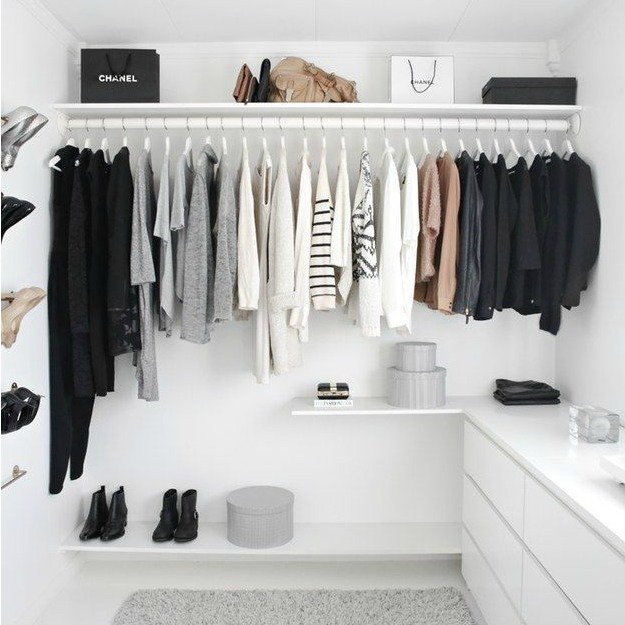 Any fashion lover can struggle with the disaster of having too many clothes and accessories. The thought that you can never have too many clothes might be fun but the reality is that you only have so much space and there are only so many days in a year to wear different items.
When you've run out of space or you have tons of things that you don't wear anymore, you have to do something about it. Going through your clothes to decide what to keep and what to do with anything that needs to be removed from your collection is essential.
Store Your Stuff Smartly
If you're reluctant to get rid of any of your clothes and accessories, you can start by rethinking how you store everything. Smarter storage might help you to keep all or most of what you have while saving some space.
If there's anything you're not currently wearing (like seasonal clothes) you can store them out of the way because you don't need instant access to them.
Put them under your bed or in your attic to save space elsewhere. If everything is really overwhelming, hiring a storage unit could help too. Visit a site like https://welshpoolselfstorage.com.au/ to find a solution that works for you. Self-storage allows you to come and go, so you can collect or store anything that you want whenever you need to.
Clear Out What You Don't Wear
Sometimes you just don't have space for everything, and you need to get rid of some of it. Fortunately, there are plenty of strategies for clearing out what you shouldn't keep.
It can be hard to let go of something if you love it, but if you never wear it, there really is no point in keeping it. You can carry out your clear out slowly or quickly. If you want to go slowly, try the clothes hanger method. Hang everything up with the hanger facing in the wrong direction.
When you wear something, turn the hanger the right way. If there are any hangers still facing the wrong way after a certain amount of time (say, three or six months), get rid of the items on them.
You can also simply go through your clothes and try to be tough about what goes and what stays. Think about whether you really like it, whether it makes you happy, and whether you feel good wearing it. If it's something you've never used, be honest with yourself about whether you ever will.
Decide What to Do with Unwanted Clothes
Once you've decided what to keep and what to remove from your wardrobe, you can think about what to do with unwanted items. If they're in good condition, there's no need to throw them away.
Consider donating your items or maybe selling them if you'd like to try and make a bit of money. Some clothes can also be recycled, which can be a good way of avoiding throwing them out.
When the sheer amount of clothes and accessories you own is overwhelming you, it's time to get on top of it and do something about it.